Lynnette at Dancing Barefoot on Weathered Ground is hosting a blog party that begins today and goes through March 8th, and I'm linking up! If you would like to get in on meeting some other bloggers and even be entered in a drawing for some fabulous prizes, click on the button below to see how!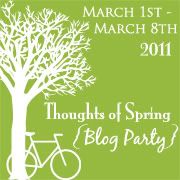 Welcome to Eternal Outlook! I'm Angela, and this is my blog. I love to write, I love to learn, and I love to share; and, I strive to do it all in the light of eternity. You can learn more about me and about this blog by clicking on the
About Me
link near the top of this page, by perusing the archives, and by checking out the answers to Lynnette's party questions which follow!
How would people describe your personality (if they could use only ONE word)?
Positive.
What celebrity/celebrities would create in you a "star-struck" feeling if you saw them in real life?
Michael Jackson would have. And, I think
Lynnette
would, too, because she is well-known in Blogland while still being real and approachable. :-)
Who is your favorite blogger? Why?
Of course, I love
Lynnette
. I don't know her in real life, but her blog tells me that she is loving, sincere, wise, and fun. But, how can I pick just one favorite blogger? I also love
September
--another sweet, smart, caring woman whom I would love to know personally--and
Amber
--my best friend in real life.
What is your comfort food/drink?
I suppose that would be chocolate, although I try not to eat much of it these days.
Be brave--tell us something very weird and random about yourself.
I wash and reuse Ziploc baggies.
Movies: Action, Drama, Romantic Comedy, Documentary, Comedy? What are your favorite genres?
I like Dramas, especially those that are based on some historical truth or event.
Books: Fiction, Non-Fiction, Romance, Biographies, True Stories, Self-help, Devotional/Study? What are your favorite types of reading material?
I enjoy Bible study books, certain non-fiction books (if the topic is right), and some Christian fiction (specifically, Francine Rivers!). Several of my favorite books are listed under the
My Bookshelf
tab near the top of this page.
Music: Funk, Rock, Country, Jazz, Classical, Film Score, Blues, Classic Rock, Crooner, Alternative, Heavy Metal, Techno? What are your favorite types?
I mostly listen to Christian music for the sake of lyrical content; but I do enjoy the sound of pop, rock, and some country. Oh, and I recently discovered that I love the sound of African music! (Check out
this song
by the Soweto Gospel Choir. I love the harmonies, the energy, and the way it builds!)
If you inherited a million dollars, what is the first thing you would do with your money?
After taking at least ten percent off the top for a tithe, I am certain that my husband would agree that we would immediately pay off the remainder of our mortgage! Then, we would be
completely
debt-free
!
Name one weakness of yours.
I tend to get lost in my own thoughts--especially when I am writing--and not hear others who are speaking to me. I am aware of this and have been working on it, because I know it hurts those whom I love the most.
If you could live anywhere at all (and take all your loved ones with you), where would you go?
I would love to live where the temperatures are in the 80s all year round.
Do you have a strange talent?
I suppose my strange talent is that I can write with both hands. When I was in college, I slowly and mysteriously began losing the ability to write right-handed (
I was eventually diagnosed with a focal point dystonia of the forearm, more commonly known as "Writer's Cramp."
); and, out of necessity, I taught myself to write left-handed. I am thankful to say that the effects of my dystonia have now greatly subsided to the point that I am able to once again write with my right hand.
What is something you consider yourself to be good at?
I consider myself to be a good writer.
What is one of your favorite things to catch a whiff of?
My husband. :-)
If money wasn't a factor, what stores would you shop in?
Honestly, I'm not really aware of the stores that are outside my current price range since they aren't an option; but there are a few specific items that I would buy right now if money were no object. :-)
a right-hand ring
fashion jewelry from Lia Sophia
a gym-quality treadmill

What is your greatest accomplishment?
Well, I recently
potty trained
my 20 1/2-month old twins in a total of eight days, and I think that's pretty amazing! Oh, and... my husband and I just became
debt-free
(besides our mortgage) at the young age of 27!
What are your favorite animals?
I love horses. I grew up with them; and, as much as I enjoyed riding, I even more enjoyed just being with them. I used to think that I would one day try to work part-time in a stable. I also
thought I was going to go to Law school
.... :-)
What movie or book character can you most relate to?
I don't know that I necessarily relate to her, but my all time favorite movie character is probably Meg Ryan in You've Got Mail.
Tweet